Barracuda
Barracuda is designed to cover the many needs a modern family-boat requires. It is comfortable, comes equipped with pantry, toilet, a standing height of 1.85m, and 5 beds in the main hull. There are furthermore two additional beds in the pontoons. One can reduce the width of Barracuda, by the means of a simple folding system, to just 3.6m (11.8 feet) and it can then fit into a common port space. The trimaran can sail onto the beach as the center board and the rudder can be tilted astern and the bottom of the main hull is reinforced with Kevlar. It is possible to trail Barracuda to waters that lie outside the normal summer-vacation-distance. Barracuda weighs 1800kg including the trailer.
Barracuda is of cause fast and ideal for racing.
Barracudas accomplishments:
Winner of Silverrudder 2013
Race winner Fyncup 2013
Winner of Silverrudder 2012 - and is therefore holding the single hand record around Fyn.
Winner of Øhavetrundt 2012
Winner of Øhavetrundt 2011
Race Winner Fyncup 2010
Third fastest time in Fyncup 2009 out of 393 boats (hereof 28 multihulls) surpassed only by two extreme carbon trimarans.
Test by Bådmagasinet 2008
Barracuda was voted the most beautiful boat at IMM 2007 in Frederikstad, Norway
Race winner Fyncup 2007
Record Øhavetrundt 2006
Fastest time Brandsø Rundt 2005
Race Winner Fyncup 2005
Launched July 2004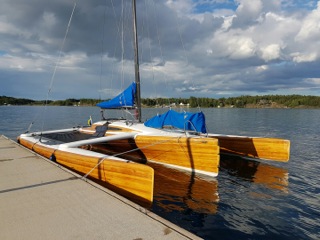 as Barracuda looks today (2016)